I love capturing little moments of light in large expressive florals, colour infused still life and loose painterly landscapes…
HIGHLY COMMENDED

LETHBRIDGE 20000 SMALL SCALE ART AWARD 2023
2ND PLACE - STILL LIFE

THE DOYLES ART AWARDS - 2023
PEEL REGION AWARD

PLEIN AIR DOWNUNDER 2022 - WESTERN AUSTRALIA
COMMENDED AWARD

LETHBRIDGE 20,000 2022
1ST PRIZE NEW EXHIBITOR

ASPECTS ART SHOW 2022
HIGHLY COMMENDED

ASPECTS ART PRIZE 2023
HIGHLY COMMENDED
LETHBRIDGE 20000 SMALL SCALE ART AWARD 2023
2ND PLACE - STILL LIFE
THE DOYLES ART AWARDS - 2023
PEEL REGION AWARD
PLEIN AIR DOWNUNDER 2022 - WESTERN AUSTRALIA
COMMENDED AWARD
LETHBRIDGE 20,000 2022
1ST PRIZE NEW EXHIBITOR
ASPECTS ART SHOW 2022
HIGHLY COMMENDED
ASPECTS ART PRIZE 2023
Pattern Play - Still Life Online Class
If You Love Pattern, and You Love Still Life, then Pattern Play with Natasha Ruschka is the Course For You!
Bring your love of patterns into your art by painting patterned fabric in still life. In "Pattern Play" Natasha Ruschka breaks down the process to help you understand the techniques and foundations before bringing it all together for some special final creations.  Learn everything you need to know, from which fabrics to choose, how to match them, the creation of compositions, and how to manipulate colour for depth and atmosphere. Natasha will guide you through the process of creating some of her favourite patterns and impart you with the skills and confidence to continue to paint patterns in the future.  This class is great for artists interested in a new look at still life and is also suitable for beginners with its easy-to-follow instructions. This class is originally created using oil paints, but the concepts and techniques translate easily to acrylic.
CLICK HERE FOR REGISTRATION INFORMATION
EARLY BIRD SPECIAL ENDS MAY 11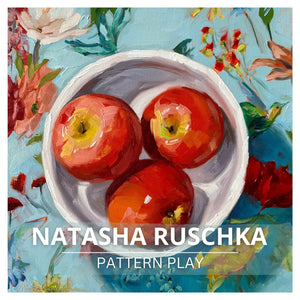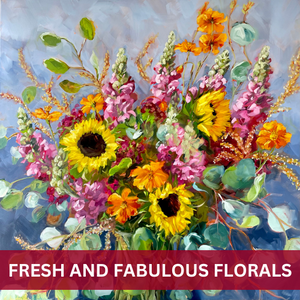 Learn to paint flowers with me
Start the New Year off learning to paint with my online class Fresh and Fabulous Florals
Learn how to paint floral paintings with me from start to finish in self paced prerecorded classes.
8 Classes, 9+ Hours of video content teaching you how to paint fresh and fabulous florals.
SIGN UP TO RECEIVE MY NEWSLETTER